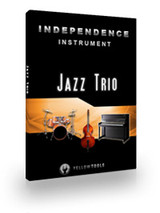 Yellow Tools has announced an After Christmas Special, offering the newly released Jazz Trio with every purchase until the end of 2009.
We still have the Christmas Special with 30% discount until the end of this month – but this is not enough: Purchase ANY yellow tools product this year and we will give you the "Jazz Trio" Download Instrument for FREE – so beside the 30% discount you additionally get a 40 EUR product for free.
Jazz Trio is an Independence Download Instrument containing a 1.5 GB collection of Jazz Drums (brushes), Pianos and Upright Bass.