Yooz Music has released version 2.0 of Yooz BL-303, a free bass synthesizer instrument for Windows and Mac.
Originally created for the KVR Developer Challenge 2016 competition, the BL-303 pays tribute to the legendary Roland TB-303 Bass Line synthesizer.
The 303 was originally created in the beginning of the 80's as a replacement for bass guitarists. It didn't get much success since it didn't do the job it was meant to and was taken from the shelves two years later. In the end of the 80's when the house and techno music started to pop up the device was rediscovered and got famous for it's uniquely acid wobbly sound.
Version 2.0 comes with an updated user interface, improved sound and some changes to make the plugin resemble the original TB-303 more. Slide now slides to the next note and the filter envelope is no longer retriggered. The accent amount increases when several accent notes occur in a sequence.
MIDI note velocity is used to drive the sequencer part, including the slide and accent.
Yooz BL-303 is a free download for Windows and Mac (VST/AU).
Also recently released is Yooz Modular, a virtual analog modular synthesizer that offers in-depth control of sounds.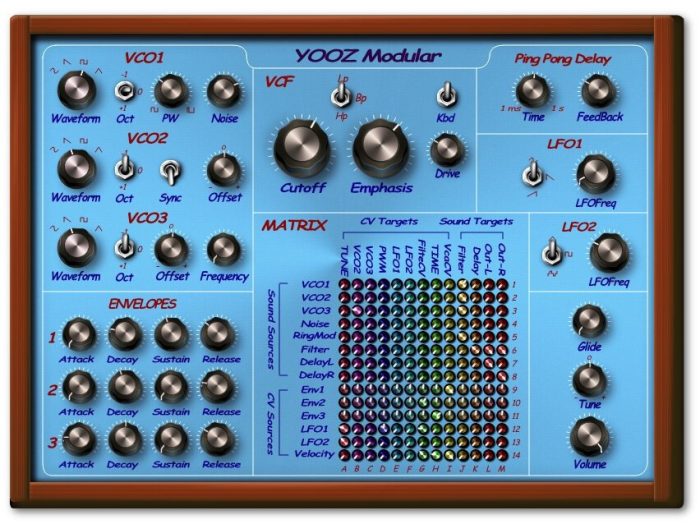 It combines endless possibilities in a simple, single window, beautiful interface, with the warm analog, fat and powerful sound of Yooz Music. All the knobs and buttons are just in front of your eyes ready for you to tweak. A huge flexible matrix truly put all the power in your hands.

If you like to design your own sounds and have them changing in a versatile ways then this is the synth you've been looking for.
Yooz Modular features 3 oscillators, a noise generator, osc sync, ring modulation, FM and PM, Yooz filter, 3 envelope generators, 2 LFOs, delay (ping pong), VCA, and a modulation matrix.
The plugin is available for Windows and Mac, priced at $137 USD.
More information: Yooz Music