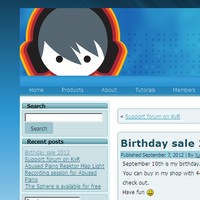 Yuroun has announced a limited time promotion in celebration of his upcoming birthday.
September 10th is my birthday. As allways is the weekend around my birthday a big sale weekend.

You can buy in my shop with 44% discount (my age) when you use coupon birthday2012 on check out.

Tip: if you buy a alchemy soundset, create a silver acount first. We are currently tagging all our Alchemy presets. You can redownload the soundsets when new versions of the soundsets are available.
The sale ends September 10th, 2012.
More information: Yuroun