Isotonik Studios has released Chiptune Dreams, a new Novation Circuit pack by Erin Ramona Martinez and Yves Big City, featuring patches, samples, and sessions inspired by the chiptune scene.
Featuring 64 samples that were lovingly crafted from classic hardware such NES, Gameboy, Commodore 64, PO-20, and many classic drum machines, this pack is for fans of the music found in many classic 8-bit games.
32 patches from Erin painstakingly recreate the sound of the NES and Gameboy. Her macros are designed to give you an extreme amount of control over the patches and welcome newcomers to synthesizers. Her layout is Attack, Decay, Sustain, Release, Filter, Portamento, Speed, and Intensity.

32 Patches from Yves were designed to quickly inspire you and represent the modern electronic music scene. His set of macros give you an astonishing amount of tone shaping options and are as follows. Filter, Release, Magic Movement(3-6), Portamento, and distortion.

Together the patches show off an amazing amount of sounds that will work in a wide variety of genres and offer the kind of flexibility that musicians crave when performing live.
Chiptune Dreams is available for £12.99 GBP/16 EUR/$19 USD.
Also recently released at Isotonik Studios is the ULTRAKICK Kick Drum Synth by Daan Pothoven.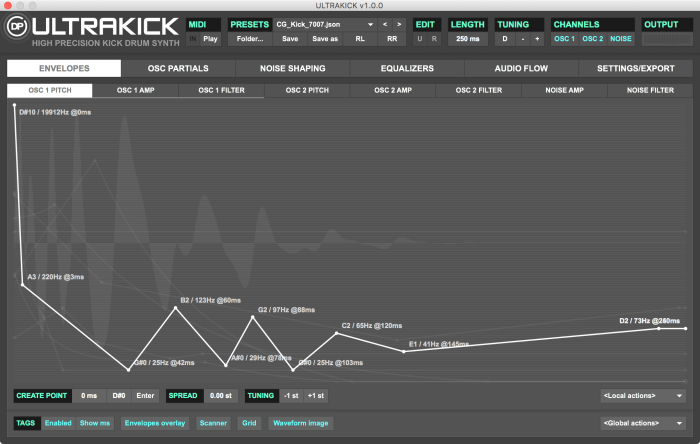 This Max for Live kick drum synthesizer is based on two oscillators and a noise generator. Its intuitive user interface allows for great control and precision.
ULTRAKICK costs 36.30 EUR.
Two new freebies are also available: MicroChaosDelay, a free Max for Live delay from Art Frequencies, and the Ill Circuitry Sample Pack by Jim Drones, which features 74 WAV sample files for use within Novation Circuit, or any other sample playback capable instrument or DAW.
More information: Isotonik Studios