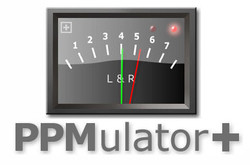 zplane.development has released version 3.2.1 of PPMulator, a PPM metering effect plug-in for Windows and Mac.
PPMulator is a cross-platform plug-in meter for digital audio workstations which exactly mimics the look and feel of a professional broadcast Peak Programme Meter (PPM).

This plugin provides a precisely calibrated workspace for recording, editing, mixing and mastering.
Changes in PPMulator v3.2.1
Retina support for Standalone/OS X.
Preference panel now shows always the last used panel tab.
Fixed: resizing issue when switching between horizontal and vertical mode.
Fixed: wrong font rendering on OS X 10.6.8. and Logic 9.
Fixed: inconsistency between loudness unit on preference panel and the meter display.
Fixed: setting colours for bar meter regions, switched units accidentally.
PPMulator is available for purchase for 79 EUR (PPMulator+) / 119 EUR (PPMulatorXL). The update is free for all existing customers.
More information: zplane