Time+Space has announced that the audio wizards at Zynaptiq have launched their Thanksgiving sale with impressive savings on their most recent releases.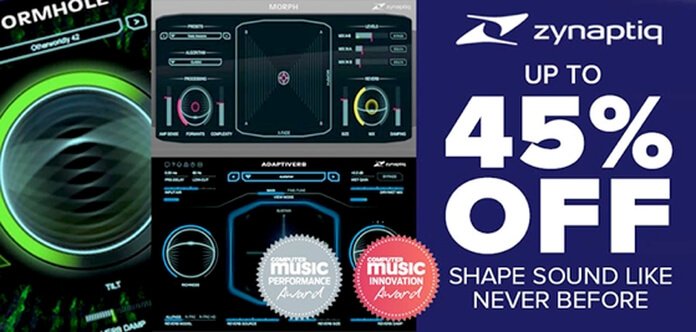 Shape sound like never before with up to 45% off the award winning Adaptiverb and Wormhole as well as the incredibly great value Design Bundle.
ADAPTIVERB – NOW ONLY £135 (over 37% off!)
Released last year, Adaptiverb takes a different approach to your typical reverb plug-in – auto-magically adapting to your audio and blending with perfection, it doesn´t clutter up your mix and it´s so organically smooth it´s as if your sounds had a longer sustain to begin with.
Furthermore, it´s a fantastic sound design tool, providing creative new options for making evolving drones, organic pads, lush ambient soundscapes and more.
WORMHOLE – NOW ONLY £89 (saves 45%!)
An indispensable tool for sound designers, film composers and electronic musicians alike, Wormhole makes the usually time-consuming workflows of creating high-quality Sci-Fi sounds and creature voices fast, easy, fun and extremely hi-fi.
Not limited to SFX, Wormhole is also a superb tool for musical sweetening and ambient effects – from the grungy to the shimmering and lush. Turn a piano track and drum mix into an epic soundtrack-style ambient piece or process a single guitar track to produce a warm, smooth and huge wall of sound.
DESIGN BUNDLE – NOW ONLY £319 (total combined product value £541!)
The Design Bundle includes both Adaptiverb and Wormhole plus Morph 2 – a real-time plug-in for structural audio morphing, the sonic equivalent of one object slowly changing its shape to become a different object.
Super-charged with a selection of 5 different morphing algorithms, a stunningly clean formant shifter as well as a lush reverb that seems to extend sounds much like some highly revered vintage hardware boxes, Morph 2 opens up a whole new universe of sounds to explore.
THe sale ends November 30th, 2017.
More information: Time+Space / Zynaptiq