Related:
AAX
,
AU
,
instrument plugins
,
public beta
,
u-he
,
VST
Posted in
news
on Dec 19, 2014
sticky
-
0 comments
u-he has launched a preview version of its Hive synthesizer instrument for Windows and Mac.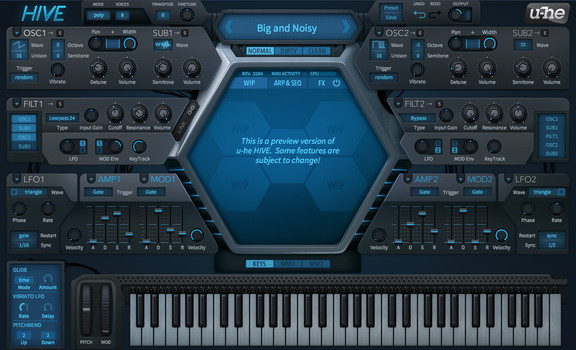 Hive started out as my private weekend project. I was trying to figure out how to make the fastest possible supersaw algorithm. It turned out, it's a mixture of so called "mip mapping" and vector processing. This makes Hive a little bit slow when you don't use unison for the oscillators, but it makes Hive exceptionally fast when you do. Well, for the non-unison processing we might add another algorithm some time later ;)

Anyhow, we've also always been bugged about two things: First of all, why don't you make a simple synth that's full fo sweet spots? Secondly, why do all your synths smoke CPUs? So we decided to piece those things together. Fast unison oscillators, a user interface that's "reduced to the max" and an efficient take on those zero delay feedback filters that I call "cheating". Latter are not realistic analogue models, but they sound particularly good with unison oscillators.

So this is how Hive came about.

Unfortunately it's nowhere near a ready state. We're still pondering about some features that we might add, we have a free hexagon to fill, we're discussing alternative UIs, colour schemes and visual feedback. However, we do think it's in a state that's ready for preset design. Whatever changes we'll make, you'll still recognize your preset, and we'll communicate all steps necessary to update them for the final version – if that will be necessary at all.
The preview is available to download for Windows and Mac from the u-he forum at KVR Audio. Hive can be pre-odered now for $99 USD ex VAT.