AIR Music Technology updates Structure to v2.0.10 & Mini Grand to v1.2.10
AIR Music Technology has released updates for its Structure 2 multi-timbral instrument with built-in sample library and editor, and Mini Grand virtual piano instrument for Windows and Mac.
These first two in a range of upcoming free updates are specifically for OS X users solving issues reported on OS X 10.12.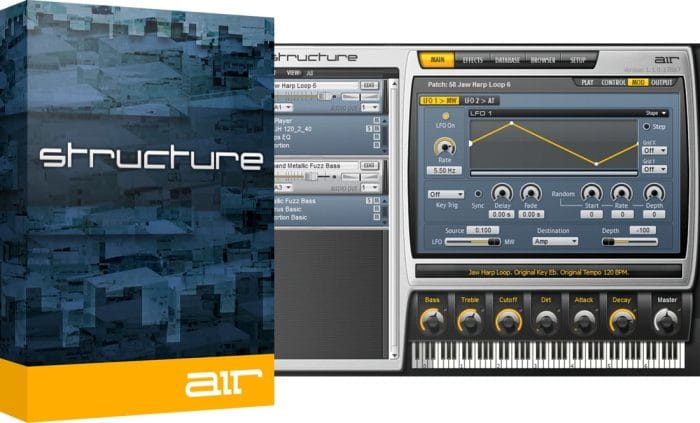 Structure is a multi-timbral instrument with a built-in sample library and editor that enables you to combine, layer, and edit your samples. At its core, Structure has a powerful 128-level multi-timbral universal sound engine that can support up to 8-channel interleaved samples. With Structure, you can create complex, rich patches by blending together multiple samples and effects.

Mini Grand is a simple to use yet powerful virtual piano instrument with seven different acoustic piano sounds to suit a broad range of musical styles and production needs.
Changes in Structure v2.0.10 (AAX, AU/VST)
Enhanced OS X 10.12 support.
General performance improvements.
Updates for latest Cubase and Logic updates.
Cut off sample playback in OS X 10.12.
Missing samples in Sonar Pro.
Broken Sample fade in/out in Pro Tools.
Play Page: Alt+click on range does not reset range fade.
Play Page: Setup – alt+click sets different values then value on load.
Edit Page: Dragging Samples from the browser into the mapping editor doesn't select the dragged samples.
Mapping Editor: Zone does not show sample name.
It is not possible to dismiss Structure dialogs via the Return/ Enter or Esc keys.
Effect UI: Stereo Surround Panner – Setting Front/Rear to +100 does not position the yellow dot x/y control fully at the upper border.
Browser: Preview Listen – Dragging a wave file to the patch slot should stop preview listen.
Info bar has grammar error when missing audio file.
Wrong tooltip in control assignment section.
Right-click does not select zone.
Odd behavior of selection buttons.
Mapping Editor: A new created empty folder displays previously selected, Zone.
Mapping Editor: Zooming with mouse wheel over zones.
"Empty Patch" message is not displayed when 2 empty patches are loaded.
Changes in Mini Grand v1.2.10 (AU/VST)
Enhanced OS X 10.12 support.
Updates for latest Cubase and Logic updates.
General performance improvements.
Cut off sample playback in OS X 10.12.
Pro Tools AAX versions of Structure Free and Mini Grand will be updated shortly and released by AVID at no cost to those with a current support plan/license.
Structure 2 and Mini Grand are available for purchase from Plugin Boutique.
More information: Plugin Boutique / AIR Music Tech