pureMix.net, in partnership with Studio DMI, has launched MixLab Miami, a new online course for dance music engineers and producers from around the world. The course and live masterclass are being sponsored by Focal Professional, Dangerous Music and Miami Music Week.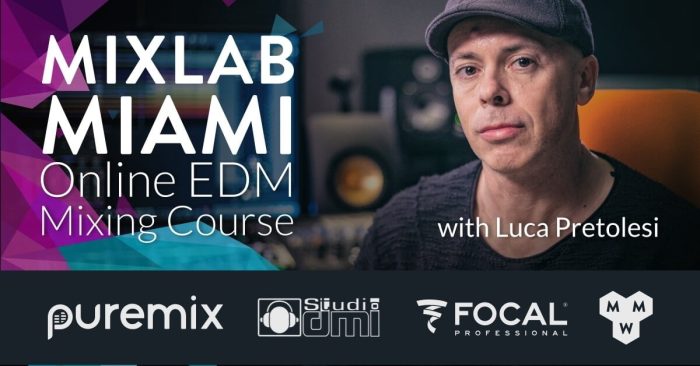 MixLab Miami is designed for intermediate to advanced engineers who want to get feedback on their mixes and learn the skills they need to help make their mixes come to life. The course assignments and instruction take place online over the course of 4 weeks and culminates in a live streaming masterclass taking place in Miami, FL on March 26th during Miami Music Week.

The course is being taught by Luca Pretolesi, a Grammy nominated dance music mixing/mastering engineer who has worked with artists such as Major Lazer, Steve Aoki, Borgeous and more. He will be teaching the course using stems from an upcoming single by Spinnin' Records artist Merk & Kremont.

Luca shared: "What makes this track really cool and great to learn from is that there are analog synth sounds (Juno-60 and Virus TI-2), digital synths, orchestral Kontakt sounds, as well as real instruments, plus there's a huge vocal on top and a giant dance groove track underneath. All of these different elements will push the students to learn how to properly blend many types of sound into one cohesive mix."

MixLab Miami is not just a masterclass where students observe how Luca works, they will have to put in the work, mixing the track for themselves and then receiving multiple rounds of feedback from Luca on how to improve their mixes.

pureMix.net launched this course in response to demand for customers wanting an immersive experience to learn how to mix and master from the top producers/engineers in the music industry.
pureMix plans to continue to release mixing tutorials with major label artists and Grammy winning producers/engineers as well as launch more interactive online courses over the next 12 months.
More information: pureMix / MixLab Miami