Audiobro updates LA Scoring Strings to v1.1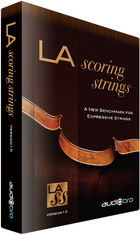 Audiobro has released version 1.1 of LA Scoring Strings, a sample library for Kontakt which brings a whole new level of expressiveness, realism and real-time playability to sampled strings.
All patches now have full access to all user controllable scripts via tabs on front panel. You no longer have to into edit mode (click on the monkey wrench) to access them.

The Tuning of all the ensemble patches and the First Chair the legato patches have been improved. Various minor bug fixes and sample fixes.
Changes in LA Scoring Strings
Delay and Humanization

The Delay and Humanization script is now accessible from the front panel of the patch.
It's now possible to delay continuous controllers (Ccs).
CC controlable On/Off.
A CC Routing section has been added to route the most used CC's in LASS (1, 7, 11, 83) to any CC of your choice.

A.R.T.

A rhythm sequencer length of up to 32 steps.
A beat display that can be set to 2, 3, 4, 5, 6, and 7 beats to help you create rhythms with ease.
The 'Slam" feature on all short articulation patches.
The Seq Len knob now shrinks and grows the table to better represent the sequence length.

Tuning Tool

The Tuning Tool script is now accessible from the front panel of the patch.

CC Table

The CC Table script is now accessible from the front panel of the patch.
There are now 10 user presets for you own dynamic layer and volume curves.
The default curve will never be lost.
There is a knob that will allow you to choose from different curves (Fig 5).
There is a smoothing knob that will even out any jagged table artifacts if you draw them in that way by accident.
LA Scoring Strings for Kontakt is available to purchase at a promotional price of $999 USD + shipping, starting on 14 January through 25 January, 2010, almost 30% off the MSRP of $1399 USD.
More information: Audiobro / LA Scoring Strings