Chris Hein releases individual downloads of Guitars Library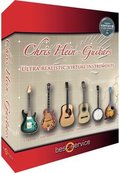 Chris Hein has released individual downloads of his Guitars sample library.
Guitars downloads available
E-Guitar clean: 6,500 Samples, 2,2 GB content
Jazz-Guitar: 6,500 Samples, 4,56 GB content
Nylon-Guitar: 3,873 Samples, 907 MB content
SteelString-Guitar: 4,814 Samples, 1,1GB content
Mandolin: 3,014 Samples, 381 MB content
Banjo: 4,907 Samples, 791 MB content
Each guitar product is available as a download for 89 EUR (incl VAT).
Visit Chris Hein's webshop for more information.