Note: this post is from 2007, outbound links may be broken.
Google Launches Powerpoint Preview for Gmail
Related:
Gmail
,
Google
,
online service
,
Powerpoint
,
random posts
Posted in
random posts
on Jun 12, 2007 -
0 comments
Google has launched Powerpoint Preview for Gmail.
Gmail users can use Google's Powerpoint competitor through a View as Slideshow feature.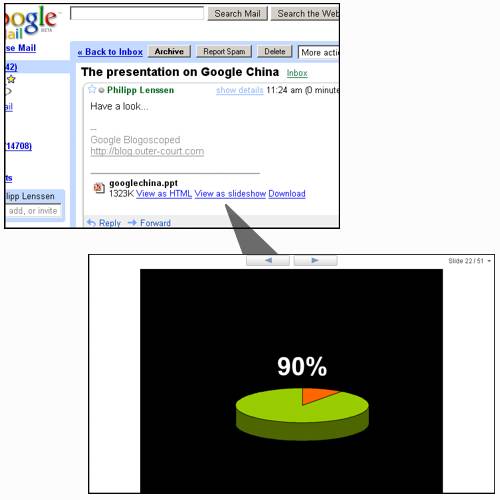 Gmail Powerpoint Preview (image by Google Blogoscope)
From Mashable
When you receive an email with a Powerpoint attached, you can view the slideshow in a new window – no need to download and open in Powerpoint itself.
Gmail already provides options for opening Word and Excel files in Google Docs and Spreadsheets.
Link via Mashable