SOUNDresource – free sample packs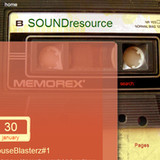 SOUNDresource is a blog offering some quality sample packs for download.
I started an audio blog on which I will post my homegrown sample packs etc. There are already 3 packs online (gratis, free, umsonnst! ) When ever I will find time I will put up some new packs, write some reviews when I buy new gear or software and I will start to bundle some of sound patches I made (NI/.ksd files)
That was a few days ago and guess what, 4 more packs have already been posted since.
Currently available from SOUNDresource
Head on over to SOUNDresource for more information and links to download all these lovely sample packs.