2CAudio has launched its 2019 Big Splash Summer Sale, offering discounts of up to 40% off on its plugins and bundles.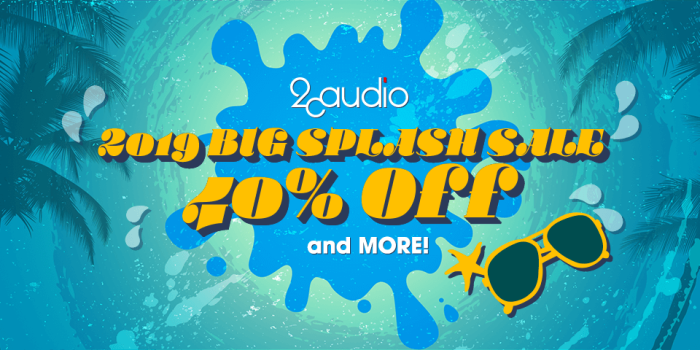 Summer is upon us all once again. We hope you are wearing your shades because today we have some really cool news and hot deals to share with you all. It's time once again for us to offer you the opportunity to save big on all 2CAudio products.

We are offering up to 40% off all products! We're even including our newly released and highly popular Precedence and Breeze 2 products in the deal, as well as giving you a sneak peak at their next major version updates! There has literally never been a better time to join the family!
Upgrades and crossgrades are also available to existing 2CAudio customers.
Users of Precedence and Breeze can get updated versions as part of a public-customer-beta.
These are very major updates which deliver our full vision for fully automatic Precedence Link via inter-plugin communication as promised, but that's only a small part of what we have accomplished! We always aim to deliver more than promised and today we have a big surprise for you!

We have developed a truly next-generation spatial mixing environment that integrates many instances of Precedence and Breeze and allows them to function as a unified virtual acoustic space. We have introduced Multi-Instance Editing, Edit Groups, Global Broadcast, Selection Sync, and more. These features allow a single GUI editor to control tens or even hundreds of Linked instances of Precedence and Breeze, enabling edits to parameter data from all instances within an Edit Group. You can manage the spatial mixing of an entire orchestra from a single shared GUI editor for example! You can even make preset changes en masse for the entire group, while maintaining relative positions for each instance! This system represents a huge leap in the evolution of spatial mixing!
Precedence 1.5 and Breeze 2.5 are scheduled for release in August, and will be free updates to existing customers of these products.
More information: 2CAudio