2CAudio has announced the release of Precedence, a unified field theory of direct sound spatialization and positioning.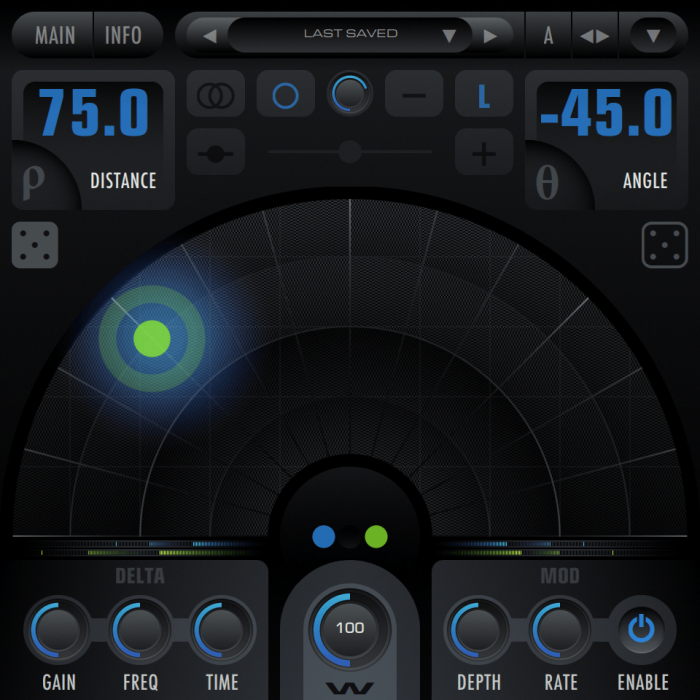 Precedence produces a self-modulating stereo-image that creates an instantaneous sense of width and presence similar to stereo microphone techniques used in live acoustic spaces. It then positions this image within a virtual stage giving ultra precise left-to-right, and front-to-back localization, which together with 2CAudio reverbs, creates an incredible sense of hyper-realistic 3D space and specific positioning within this space.
You are undoubtedly familiar with traditional gain panning and have perhaps heard of slightly more advanced techniques such those relying on the Haas Effect, binaural hearing, Head Related Transfer Functions (HRTF) and similar topics. Precedence lives within the same universe as the aforementioned techniques, but offers some very novel developments, and a unique organic morphing functionality that drastically enhances its effectiveness over both headphones and loudspeakers while avoiding the innate weaknesses of each of the above techniques. In addition to delivering perfect control over horizontal angle or azimuth, Precedence also offers precise control over an instrument's apparent distance from the listener allowing users to achieve incredible front-back depth and distance placement, which is highly desirable in applications such as scoring and orchestral work. Furthermore, Precedence is designed to intelligently integrate with 2CAudio reverbs such as Breeze 2 to achieve an unprecedented degree of realism in instrument placement within a unified virtual acoustic space.

Move out of flatland, experience higher dimensions of spatialization, and achieve precise and purposeful positioning in all directions. The missing link in the next evolution of spatial sound has been found and is available today. Take Precedence over spatially inferior mixes.
The Breeze reverb plugin has been updated to version 2.1, featuring a new P-Link feature that changes the way Pre-Delay and other algorithm internals are set, and transforms the Mix control into something that effectively helps control distance perception.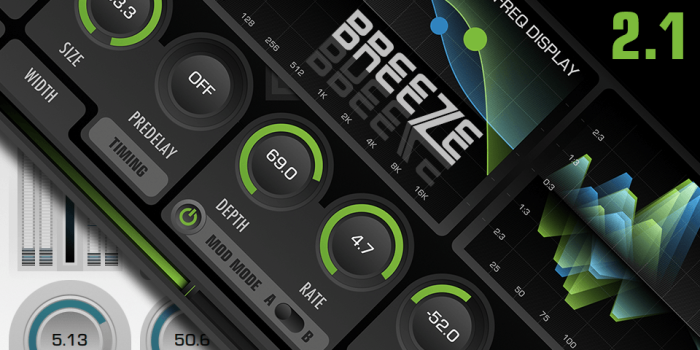 When used together with Precedence, an incredibly realistic sense of depth and distance can be achieved allowing instruments to be recessed back into the sound stage in an extremely convincing manner.

Breeze 2.1 effectively defines the spatial environment, and Precedence allows placement anywhere within this space, achieving the ultimate realism and control. This is extremely appealing for scoring and orchestral work for example, and may become the start of a new paradigm of spatial mixing.
Changes in Breeze v2.1
P-Link Mode.
Chameleon Color GUI.
Sub-Zero Suspend-On-Silence CPU-Saver.
3 New Filter Types.
Improvement to Early Phase Response.
Phase Inversion Button.
Channel Swap Button.
Other Misc Internal Tweaks and Improvements.
New Presets.
Precedence for Windows and Mac (VST/AU/AAX) is on sale for the intro price of $74.95 USD for the first 30 days (regular $99.95 USD). Precedence and Breeze 2.1 are also part of the new Perfect Storm 3.5 bundle for $499.95 USD.
Existing Perfect Storm 3.0 customers can order Precedence for only $49.95 USD during the introductory period, automatically upgrade to Perfect Storm 3.5. Use voucher code Upgrade_PerfectStorm35 at checkout.
Breeze 2.1 is a free update for existing Breeze 2.0 customers.
More information: 2CAudio