2getheraudio has announced the release of CL4P Maker, a virtual instrument dedicated to creating and playing an infinite variety of handclap sounds.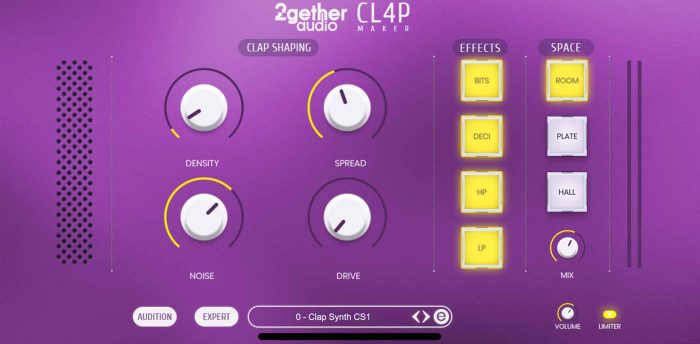 Originally made popular by the Roland TR808 and TR909 drum machines, handclap sounds are utilized extensively in hip hop, pop, R&B, and electronic dance music of all styles. CL4P Maker builds on this tradition by offering music producers an extended collection of handclap sounds with the added ability to make their own electronic handclap sounds.
Two interfaces, Simple and Expert, give producers a highly optimized set of sound design controls for fast auditioning, simple tweaking or fine tune control of handclap sounds.
"Handclapping goes back as far as humanity itself so it's not surprising you find handclaps in all styles of music today," says Jennifer Hruska, CEO of 2getheraudio.

"That being said, we didn't see any software dedicated to creating a wide variety of handclaps, so we built CL4P Maker to remedy that. You can still get your traditional handclap sounds but with CL4P Maker you can now build completely new and unique electronic handclaps."
CL4P Maker for Windows and Mac is available in 64-bit VST, AU, AAX plugin formats. The plugin is released under 2getheraudio's Pay-What-You-Want business model, with a minimum of $10 USD. A free trial is available for download.
More information: 2getheraudio