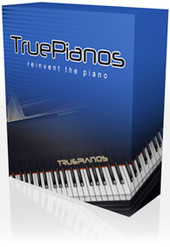 4Front has released version 1.9.0 of TruePianos, a virtual piano instrument for Windows and Mac.
When the instrument blends transparently with the musician's hands, reality becomes music.

TruePianos VSTi was designed with exactly this in mind giving the inspiration an instant GO as soon as you touch the keyboard.
Changes in TruePianos v1.9
TruePianos 2.0 technology preview module Atlantis (requires SSE2 capable CPU).
Engine updates for Atlantis module.
Mac OS X 64-bit AU support.
Compatibility updates for Windows Vista/7, Mac OS X 10.6.
The update is now available to download for registered customers.
4Front has also announced a 33% Christmas discount on TruePianos from 22 December till 22 January. Existing discount coupons are valid on top of the holiday discount. Additionally, every TruePianos customer (new and existing) can get a $50 USD flat discount coupon code for use on Rayzoon's Jamstix 3XL/3P/3XXL and Jamstix 3 Studio products.
More information: TruePianos