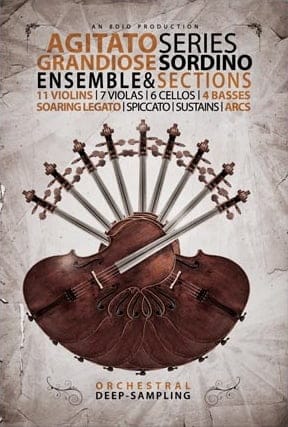 8Dio Productions has released Agitato Sordino Strings, a new instrument library for Native Instruments Kontakt.
Agitato Sordino is the most comprehensive sample collection of expressive Sordino (Mute) Ensemble Strings on the market. It is best described as the deep and emotional sound of motion picture. The Sordino Strings have a depth, air, silk and sadness to them that you won't find with normal strings.

Agitato Sordino is based on brand new sample content. We recorded 9 new types of Sordino Legato for Violins, Violas, Cellos and Basses.

Agitato Sordino offers three different approaches to Sordino Strings. First of all we deep-sampled several layers of True Sordino Legatos, which we programmed into an incredibly flexible and playable set of True Sordino Legatos. Secondly we recorded all the sections individually (11 Violins, 8 Violas, 6 Cellos and 4 Basses), so you have full control over each section and thirdly we reprogrammed all the individual patches into Full Sordino Ensemble Patches for easy, fluent writing and sketching. The Full Sordino Ensemble patches include Sordino Sustains, Sordino and Sordino Dynamic Bowings.
Agitato Sordino Strings features
Deep-sampled ensemble sordino strings.
Individual string sections for violins, violas, cellos & basses.
Advanced adaptive legato.
7.5GB / 12.684 samples (lossless .ncw compression).
The library is available for the introductory price of $249 USD until June 1st, 2015 (regular $299 USD).
More information: 8Dio Productions / Agitato Sordino Strings