Garritan has launched Abbey Road Studios CFX Lite, a virtual piano instrument that features a compact, downloadable subset of the Garritan Abbey Road Studios CFX Concert Grand at a more affordable price.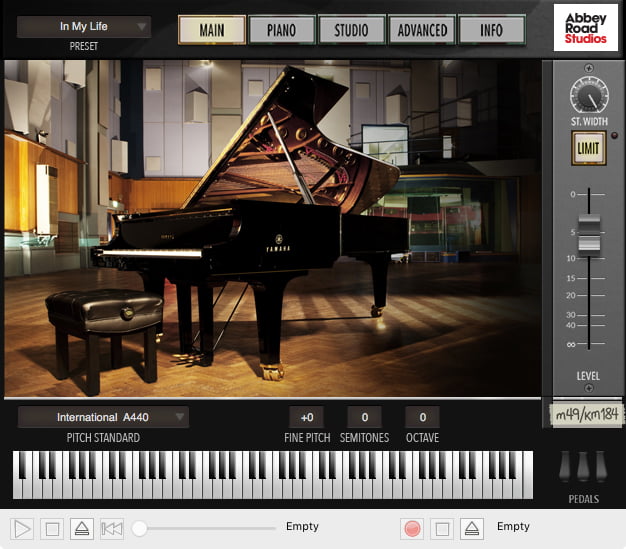 The original CFX virtual instrument was created by placing Yamaha's flagship CFX Concert Grand piano in Abbey Road Studios' historic Studio One. There it was recorded by renowned engineers, blending the latest technology with legendary equipment and acoustics.

"When we set out to make a more accessible version of the CFX Concert Grand, we didn't want it to be 'watered-down' in any way, " said Fred Flowerday, MakeMusic senior vice president of product strategy. "Instead of making any compromise in sonic quality, we provided a single, classic microphone perspective in all of its richness and depth."

Where the full CFX offers close and ambient mic placement for three perspectives (Classic, Contemporary, and Player), CFX Lite offers simply the close-mic'd Classic perspective, provided in all of its full-bandwidth grandeur.

The CFX Lite retains the expressive detail of the original by providing the full power of the Close Classic mic perspective, created to capture the natural tonal character, clarity and nuance of the CFX. All 20 layers of detail from the original CFX are represented, including separate sample sets for pedals-up, sustain pedal down and soft pedaling.

The CFX Lite also adds pedaling and other features not found in the original CFX Concert Grand. These include partial and re-pedaling functionality plus more than 20 additional impulses captured from Abbey Road Studios' outboard reverb equipment.

"I really love the Lite version of the Abbey Road CFX, " said Mirek Stiles, head of audio products at Abbey Road Studios. "It's great having the Abbey Road engineers' favourite mic array from the original CFX release, with the same beautiful tones of the CFX in the most famous recording studio in the world, but in a more accessible, downloadable package."

"The CFX Lite carries on the Garritan tradition of democratizing music making, " said Gary Garritan, MakeMusic director of instrumental sciences. "Not everyone can own Yamaha's flagship grand piano or book studio time at Abbey Road Studios. But today, nearly anyone can reap the benefits this remarkable piano and legendary world-class studio have to offer."
The CFX Lite virtual instrument for Windows and Mac (VST/AU/RTAS/AAX) is available from Plugin Boutique for $79.95 USD.
More information: Plugin Boutique / Abbey Road Studios CFX Lite