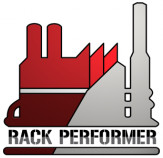 Abeem Live Technologies has released version 0.96-alpha of Rack Performer, a modular host for Windows.
In this new version we mostly focused on the feedback we got, and the most important fixes revolve around VST support and VST scanner improvements. Application is now way more stable and usable.

We still managed to add new features and this time the Keyboard Mapper got pimped up and is now completely functional, including all submap types, new simplified mapping types (control focus vs action keys) and a brand new configuration dialog to select layout and numeric pad mode.

Module Control Focus has also been improved with the addition of Keyboard Control Focus, making it bi-directional: keyboard follows global module control focus, but keyboard can also change focused module or focused parameter.

Under the hood, there are new global control ports for Scene Snapshots, Virtual Screens and Audio Monitor, meaning all those parameters can be mapped (MIDI, keyboard..) like any other parameter in the patch.
Rack Performer 0.96-alpha for Windows is available to download for registered users (registration is free).
More information: Abeem Live Technologies