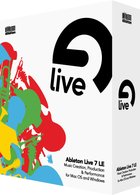 Ableton has announced the upcoming release of Live 7 LE, an easy-to-use, professional-grade music-making solution.
Live 7 LE is built on the same fundamental concepts as Ableton Live, the music production and performance solution that has won numerous awards for its innovative workflow and refreshing simplicity. Offering most of Ableton Live 7's new features, the LE version makes music-making fast, easy and fun.
Ableton Live 7 LE features
Studio-quality recording up to 32-bit/192 kHz*.
Sixty-four audio tracks and unlimited MIDI tracks per project.
Powerful and creative MIDI sequencing for software instruments.
More than twenty built-in audio effects, including a host of creative delays, filters, distortions, studio compressors and EQs*.
Two software instruments—Simpler for creative sample-based synthesis, and Impulse for dynamic, sampled drums*.
VST and AU effects and instruments support; automatic plug-in delay compensation*.
Real-time time-stretching and warping of AIFF, WAV, Ogg Vorbis, FLAC and MP3 files for DJing and instant remixing.
Real-time tweaking of Live's controls with any MIDI controller—just MIDI-map it or choose from a list of popular supported controllers for instant mapping.
Single-screen user interface for simple, creativity-focused operation.
Multicore and multiprocessor support.
The boxed version of Live 7 LE comes with the Essential Instrument Collection 2 LE Edition (by SONiVOX and ChocolateAudio) and Loops and construction kits by Puremagnetik.
Sounds pretty good eh? But note the little asteriks in the feature list…
* Live LE is limited to two simultaneous stereo audio inputs and outputs, twelve built-in audio effects, eight built-in instruments, two AU/VST effects and two AU/VST instruments per project.
So I guess it's going to be great if you don't plan on using too many 3rd party plug-ins (too many being more than 2…).
Live 7 LE will be available as a download from the Ableton webshop for 129 EUR / $149 USD. The boxed version will be available in stores and the Ableton webshop for 169 EUR / $199 USD.
Check the Ableton Live 7 LE announcement for more information about pricing and upgrades.