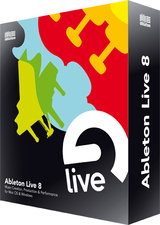 Ableton has released version 8.0.2 of Live 8 and Suite 8, the music production software for Windows and Mac.
Changes in Live/Suite v8.0.2
Updated manuals.
Updated help pages.
Dragging a file from the OS into Live's file browser copies the file by default instead of moving it. When pressing the copy modifier the file will be moved [4976].
Improvements for offline authorization.
Resizing tracks with ALT now only resizes tracks withing the same level of the group track hierarchy.
Unfold all (ALT-click the arrow) now works only in the same level of hierarchy – "resize all" and "unfold all" works now either on "player and group tracks", or on "return and master tracks".
In Session View, group tracks provide a "track launch" button in map mode.
The fold/unfold triangle of a group track is painted blue when a track inside is soloed.
In the file browser, the "create folder" command is available in the "parent folder" context menu.
Added an option for the Options.txt file to support Wacom Tablets. Adding the line "-AbsoluteMouseMode" into Options.txt file switches Live into absolute mouse position mode.
Various bug fixes, details here.
Visit Ableton for more information and a link to download the latest versions of Live 8 and Suite 8 (demo versions are updated as well).