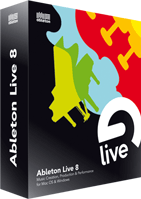 Ableton has released version 8.1 of Live and Suite, the professional digital audio workstation applications for Windows and Mac.
Changes from Live 8.0.9 to Live 8.1
Improvements:
Updated manuals
Updated Help Pages
MaxForLive support
Filter Delay offers 3 options for smoothing time transitions now.
Closed group tracks material (Session view slots or Arrangement "overview") is now used for clipboard operations, such as copy/paste, duplicate or delete.
New Midi-Notes created by clicking always have the length of the current grid even if the grid is off.
Consolidate respects empty clip names. Formerly, the consolidated clip would take its name from the first clip in the selected region, or the track's name if the clip name would be empty. Now, the consolidated clip takes the first clip's name, regardless whether it is empty.
'Crop Clip' is now available in the context menu of the MIDI clip detail view.
Double clicking on the Clip Panel header, in the detail view, shows that clip in Session, or Arranger.
Bugfixes:
The highest MIDI notes can now be played with the computer keyboard. Previously, the higher half octave was not accessible.
Compressor: Monitoring the compressor sidechain would only work when there was a signal at the compressor's main input. [3977]
Canceling a content package installation could crash Live. [5151]
Deleting all warp markers would not always work properly. [5519]
Doing a time selection via computer keyboard in the clip envelope editor would not show the right info in the status bar.
Dropping a file on a missing file references in the file manager would not work properly.
An envelope for Transpose of a playing clip could affecting another unwarped successively triggered clip.
In some case, the Fade context menu commands would be missing. [5702]
In the file browser, renaming a file would not always work properly. [5798]
The slot selection would not be updated properly when dragging a clip in the Session.
Live could truncates notes in certain MIDI clips when only the velocity would be changed. [5754]
In a particular Live set, audio fades would not work properly with certain clips having envelopes. [5833]
Dragging an arranger clip within the arranger could delete its envelopes. [5825]
Under certain conditions Live would crash when moving clips and having no groove in the groove pool.
Under certain conditions, copy and paste of automations for multiple lanes would not work. [5644]
Under certain conditions, a folded group track would not display the overview for contained clips.
Unsupported multi channel audio files would crash Live. [5995]
When exporting a video file, the resulting video file would grow on each export instead to be replaced. [5996]
On Mac OS X, alias folders in the in the Open/Save dialog would be greyed out. [5998]
Under certain conditions, it was possible to hear 2 session clips from one track at the same time. [6000]
Under certain conditions, copy and paste of Arranger clips would not work properly. [6001]
Operator: LFO knobs would not indicate an existing clip envelope. [6062]
Editing clips could lead to crackles in the audio.
Files on a SMB based network volume could not be renamed within the browser. [6033]
The Spectrum device would not show a spectrum for very short signals. [5940]
Under certain conditions, pasting in the arranger could crash Live.
Freeze would not work properly on tracks with removed 'stop' buttons. [6070]
Undo the creating of a breakpoint for Sampler's filter On/Off switch could crash Live. [6083]
Using a particular audio file with the Complex Pro warp mode would crash Live. [6032]
Splitting clips in arranger could lead to wrong playing.
When double-clicking a session clip while the clip is not visible, it was possible to accidentally move the clip to a different slot. [5974]
Editing pseudo-warp markers on long audio files could let the waveform display disappear.
Start playing a particular arranger clip from certain position would not actually play the clip. [6129]
Dropping a clip onto playing clip would not send the required feedback for control surfaces. [5859]
Clicking on a track or a scene could result in heavy MIDI feedback traffic for controller surfaces. [5975]
The update is now available to download for registered Live 8 and Suite 8 users.
Ableton has also announced it will suspend all development towards new features while the whole team joins forces to address current issues. More information on that here.
More information: Ableton