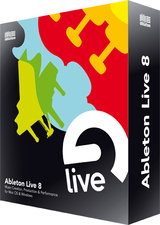 Ableton has updated its Ableton Live and Suite music production software for Windows and Mac to version 8.3.
We've released Live 8.3, a free update introducing greater stability, automatic updating and direct SoundCloud upload from within Live.
Changes in Live/Suite v8.4
Improvements and feature changes:

A new "Upload to SoundCloud" option is available in the Export Audio/Video dialog. When enabled, Live will open an upload client after the file has been rendered to disk, so you can upload the rendered file directly to your SoundCloud account.
Added automatic software updating. When enabled, Live will automatically download and install software updates in the background. Users who update to Live 8.3 from an older Live version will see a dialog box when launching Live 8.3 for the first time, where Automatic Updates can be enabled or disabled. You can always change the settings in Live's "Licenses/Maintenance" Preferences.
Changed the naming of the Live application. The application is now called "Ableton Live 8" and does not include a specific revision number. The revision number can still be found in the About screen in the Help menu.
The Windows installer has been updated to a newer version.
The default installation path of the Live application has changed on Windows.
Added usage data collection. When enabled, Live will send data about your Live installation and usage to ableton.com. This data will be used to help Ableton's developers identify bugs and improve the software. Usage data collection is optional and can be enabled/disabled in the "Licenses/Maintenance" Preferences.
Added control surface support for Akai MPK Mini.

Bugfixes:

Fixed a crash that could occur when modulating a parameter in the Corpus device with Max for Live.
Fixed crashes and audio dropouts that could occur when hot-swapping through AAS instruments.
Fixed a crash that could occur when undoing the deletion of the last warp marker in an audio clip.
More information: Ableton