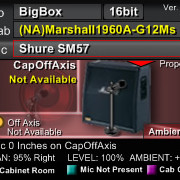 AcmeBarGig has released version 1.6 of iFace, an interface plug-in for RedWirez impulse response libraries.
iFace is here to change the way you interact with your RedWirez impulse response libraries. Be done with the manual navigation methods of the past, and discover the best interface for one of the best IR libraries around!
Changes in iFace v1.6
Saving your selections as their own Cabinet Files.
Using external Cabinets.
Support for Recabinet 2.02 through Menu Templates.
Support for ALL Redwirez cabinets.
New, more organized internal menu.
Cabinet Blend slider.
Serial and parallel convolution.
iFace for Windows (VST) is available to purchase for $21.12 USD. A free 30-day trial can be downloaded from the iFace product page.