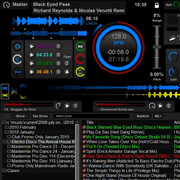 Adion has released version 1.00 of djDecks, a DJ mixing software for Windows and Mac (beta).
This release is based on the djDecks DX version that has been in beta for quite a while now, so this means that it will also play video and karaoke, allow video effects, text overlays and picture slide shows.

Besides that, the browser, playlist, autoplay and search features have been improved, the audio engine is more flexible (allowing you to mix multiple asio/directsound/wasapi devices) and controller support has been improved too (besides midi, HID and OSC are now also supported)
Changes in djDecks v1.00
Large part of the program rewritten from scratch.
Support for Video and Karaoke files added.
Improved browser, playlist, autoplay, search and logging.
Support for various controllers added.
Performance improvements.
More flexible audio engine: mix ASIO, WASAPI and DirectSound devices.
Skin engine now hardware accelerated using DirectX.
djDecks 1.00 is available to purchase for Windows for 80 EUR. A beta version is available to download for Mac.
More information: djDecks