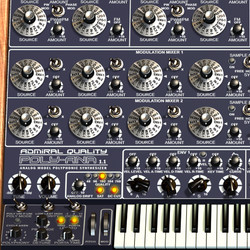 Admiral Quality has announced a limited time sale, offering a 66.6% discount on its synthesizer instruments for Windows and Mac.
We hardly ever do this, but in celebration of the coming holiday and, frankly, because the Admiral is hungry and trying to keep a roof over his head and his internet on, we're going to offer our biggest discount yet until the end of the month. Prices of Poly-Ana and L'il Poly-Ana are slashed to 1/3 normal! That's right, until May 1, 2014, a positively evil 66.6% off!

We also have some new products and updates coming very soon, including support for x64 on OSX. So stay tuned, and please help spread the word about our sale. It will help us get those other projects completed over the coming days and weeks.
The sale ends May 1st, 2014.
More information: Admiral Quality