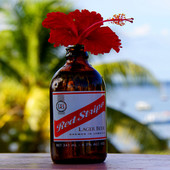 AfroDJMac has released Red Stripe Bottle Synth, a new free instrument in the weekly series of Ableton Live Racks.
I have sampled a couple of tones from those very Red Stripe bottles, as well as others from a plastic water bottle. These two slightly different tones are mixed together to create this weeks Free Weekly Ableton Live Rack. From there, I added an Auto Filter with macro knobs to control the various parameters and LFOs; next I used Ableton's Auto Pan to create a tremolo effect that is synced to the master tempo. A delay set to repitch mode is followed to add some fun twisting effects, followed by an Erosion plug in to add some noise for character. I especially like this particular synth for its tremolo effect, which is easily modulated thanks to the macro knob.
The Live Rack is a free download at AfroDJMac. The pack includes some stems from a beat that is available to anyone to remix.
More information: AfroDJMac