AfroDJMac has released the Ohh to Ahh Vocal Synth, a new title in a series of free Ableton Live Packs.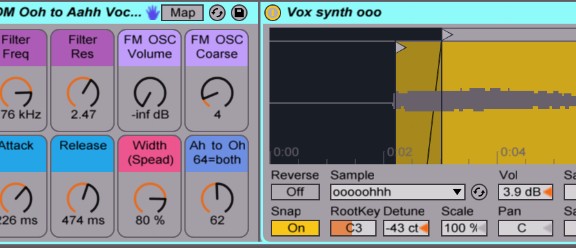 A few years back, I recorded a track called "B and C Down in History." In the very beginning I created a sound by sampling my voice and putting it inside Ableton's Sampler instrument. It's the first sound you hear in the song and it comes back periodically through out.

I really liked the character a vocal sample gives on a synth. It's not perfectly in tune, and it sort of captures the soul of a living breathing person. So I decided to tidy up the instrument I created for this song, and release it to you for free.
The pack is a free download for Ableton Live.
Furthermore, AfroDJMac has recently released the Dubstep Bass Ableton Pack, a collection of grimy, wobbly, fat basses specifically designed for dubStep production in Ableton Live.
I've created a collection of bass instruments especially for anyone looking to create dubstep style basses in Ableton Live. I've been asked about whether or not you need some expensive third party plug in to make these kinds of sounds. Of course you don't! So I thought I'd make a some directly inside Ableton, using the Operator synth. The result is this pack of racks that should help you get moving on making your own dub step tracks
The Dubstep Bass pack costs $5 USD.
More information: AfroDJMac