AfroDJMac has launched VHS Rack and Double P Keys, two new titles in the series of free Ableton Live packs.
This Ableton audio effect rack will give you control over the pitch inconsistencies, chorusing, saturation, and compression that are characteristic of VCR tapes. You can dial in the effect to be subtle, or go all out and make your music sound like it's practically broken. It can be used on a track by track basis or on the master channel.
Double P Keys is a multi-layered synthesizer rack.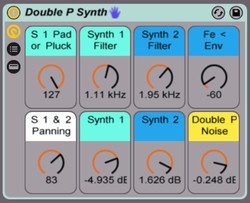 This instrument rack contains five chains of synthesizers stacked on top of each other. 3 of the sounds are designed to add ambience and texture to the sound, while 2 of them produce the musical, harmonic material that allow you to play notes and write melodies. You can mix in the level of "Double P Noise" and each synth. The instrument also has control over the filters of each of the two musical synths.

The first musical synth can be morphed from a pluck type sound to a more rounded pad sound. The second synth makes use of the filter envelop to give movement and character to the sound. All 5 layers of this sound are created from the same sample, just different sections of it. I won't say exactly what it is, but I'm sure if you give it a listen, it will be a familiar sound.
Both libraries are available to download from AfroDJMac at no charge.
More information: AfroDJMac