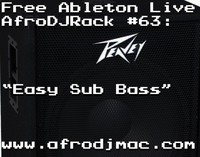 AfroDJMac has released Easy Sub Bass, a free Live Rack designed to easily add sub bass to any synthesizer in Ableton Live.
Sub bass is an important part of many types of electronic music. It is not so much heard as it is felt. It can give a track tremendous power.

For this free Ableton Live Pack, I have created an instrument rack that features two different chains. The first contains a simple sine wave synth that provides the sub bass. The second chain is almost empty, leaving room for you to drop any instrument you'd like to add a little sub bass to.
Brian has also posted a new episode of "2 Minute Ableton Tips", in which sidechaining in Ableton is explored.
Side chaining is a very effective way to get your tracks to react to each other. I wrote an article about sidechaining for Sonic Scoop's blog, check it out for some background and creative uses. Anyway, Ableton Live has three devices that can be side chained together: The Compressor, The Gate, and The Auto Filter. This week will deal with the Compressor.
More information: AfroDJMac