Akai Professional has released iMPC Pro, a music production app for iPad.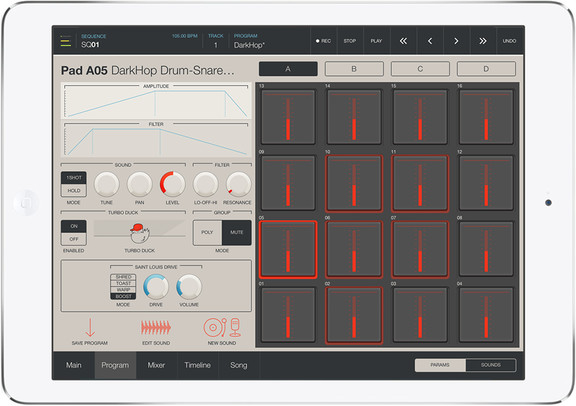 iMPC Pro is a 64-track music production powerhouse for your iPad. With built-in sampling functionality, a massive sound library, effects, and over 30 performance-driven features, iMPC Pro brings the functionality of Akai Professional's coveted Music Production Center to your iPad.

Developed in partnership with Retronyms, the developers of the original iMPC app, iMPC Pro comes with pro-grade tools for intuitive beat creation whenever inspiration strikes.

It combines multiple sampling methods, producer-tested MPC features, a custom sample library from Richard Devine, and an intuitive gestural editor for the most powerful, creative and fun iPad music production experience yet.
iMPC Pro features
A platform for creating sample-based music on your iPad with renowned MPC functionality.
Sample audio from the iPad microphone, your own tracks using resampling, other apps using InterApp Audio, or your music library using the multi-touch turntable interface.
64 tracks for flexible multi-track music production including gain fader, 3-band EQ, mute, solo, panning and FX sends on each track.
All-new chop-shop provides intuitive multi-touch editing, trimming, auditioning, splicing, splicing and processing of sample.
All-new Timeline View opens a multi-touch gestural editor for sequencing, recording, and editing.
All-new Flux mode lets you warp and glitch your beats in real-time or with automation.
All-new Precision Knobs and Faders expand on command for precisely dialing in parameters.
Drag n' Drop your samples for simplified program/kit assembly.
All-new 3D-performance mode lets your perform with your iPad's accelerometer.
All-new Turbo Duck effect fattens up your tracks with sidechain compression.
Exclusive sound library featuring 1,400+ samples from sound designer Richard Devine with hundreds of Akai Pro exclusive samples.
Improved sampling workflow with re-sampling and sample library organization.
16 Levels mode with attack, velocity, length, and tuning settings for quickly creating variations of your sounds.
Note Variation slider lets you adjust attack, velocity, length, and tuning as you play.
Onboard effects include delay, bit crusher, and master compressor/limiter.
Live Sequence queuing for real-time performance and playback.
Time correct: 1/8 note – 1/32T with variable swing.
MPC Note Repeat featuring 1/8 note – 1/32T timing with latch.
Supports Inter-App Audio in iOS7 for sampling from your other music apps.
AudioCopy and AudioPaste for copying/pasting beats and sequences from compatible apps.
Seamless integration with Retronym's Tabletop app for iPad, a modular audio environment.
Works with MPC Element via the Apple iPad Camera Connection Kit (sold separately).
Community sharing built-in: directly upload to SoundCloud, Facebook, Twitter, Tumblr, or export to your computer.
iOS support for simple drag-and-drop, plucking, and multi-touch music gestures.
Interactive gesture control for automation, mixing, and effects.
Automation lets you record pad and track mute changes to your sequence.
Tabletop ready – use iMPC Pro inside the acclaimed Tabletop App to combine it with dozens of synths, sequencers, FX and more.
Samples may be set to 1-shot or "hold" mode.
Tuning, Panning, Level, Lo-Pass and Hi-Pass available for each sound.
Easy cloning of sequences via multitouch capabilities.
Classic "Next-Sequence" lets you juggle your sequences to experiment with different compositions or for dynamic live performance.
Mute and poly pad groups for authentic percussion performances.
Mixer effects include tempo-sync'd delay, reverb, chorus, flanger.
Add third-party effects with InterApp Audio Effect.
Pad effects include custom-designed envelope filters, 4-mode distortion and ring mod.
Supports InterApp Audio mode. Record the outputs directly into other apps like GarageBand and Cubasis.
Over 20 demo projects to manipulate, shape and learn with.
Extensive Undo History lets you roll back your project to any state.
Export your tracks as an audio file.
iMPC Pro is available for purchase for the introductory price of $12.99 USD for a limited time (regular $19.99 USD).