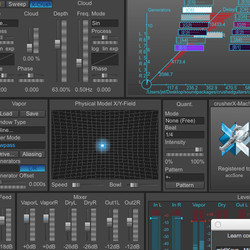 accSone has released version 5.3 of crusherX-Mac!, a granular synthesizer instrument.
A new vapor parameter is introduced: X-Crush adds a special asymmetric ring-modulation transformation fed by the overlap of each grain with its successor.

While interacting dynamically with the other vapor parameters X-Crush will lead from subtle ringing artifacts up to extreme phase shifting and distortion sounds.
Changes in crusherX-Mac! v5.3
Added X-Crush parameter that does sound processing on the grain overlaps.
Fixed crash on long grain lengths in combination with high MIDI note.
AU version is now loadable under Ableton Live.
crusherX-Mac! 5 is available for purchase for 179 EUR incl. VAT. The update from all 5.x versions to 5.3 version is free.
More information: crusherX-Mac!