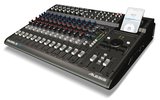 Alesis has announced it has begun inclusion of Ableton Live Lite 7 with its acclaimed USB and FireWire mixers and audio interfaces.
Ableton Live Lite 7 is a revolutionary, multi-award winning music production software solution that allows musicians to spontaneously compose, record, remix, improvise and edit musical ideas in a seamless audio/MIDI environment. Combining an Alesis USB or FireWire mixers or audio interface enables a user extreme capability for music creation and production with intuitive, powerful connectivity to a host of source and output equipment.
Alesis is now bundling Ableton Live Lite 7 with the following mixers and interfaces:
iO|2, iO|26, iMultiMix 8 USB, iMultiMix 16 USB, MultiMix 8 USB, MultiMix 8 USB 2.0, MultiMix 8 FireWire, MultiMix 16 USB 2.0, MultiMix16 FireWire and MasterControl.
The products bundled with Ableton Live Lite 7 will begin shipping this fall.
Visit Alesis for more information.