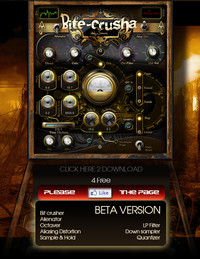 Aly James has announced a public beta for the Bite-Crusha effect plug-in.
This brand new Aly James vst plugin is designed to crush, decimate and transform any wave signals into square bits chip colored romance!

For all sound designers & music experimentalist, primarily designed for electric guitar & bass this
baby can be used on drums, synths, vocals & basically every sound you plug in this machine…
Bite Crusha beta features
Internal Preamp Stage.
Filtered Octaver.
Bit Crusher 24bits to 1bits & Sample Rate Reducer 44100 to 200 Hz.
Alienator Granular Time & Amplitude Modulation (pitch shifter/ ring mod/ delay).
Speaker amp simulation using marshall 1970 guitar cabinet impulse.
Decimator Stage with Sample & Hold and Signal Quantizer.
Analog modeled Low Pass Filter.
Internal Limiter.
In & Out Scopes.
Full Midi assignable Control.
Assignable LFO.
Internal Double Resonant Midi Controlled Oscillators.
Stereo Mode.
Bite Crusha beta (VST) is available to download exclusively from Aly James' Facebook page.
More information: Aly James