Noise Makers has announced the release of Ambi Eyes, a free 360 video player add-on for the Ambi Head HD professional plugin for converting ambisonic signals into 3D binaural audio.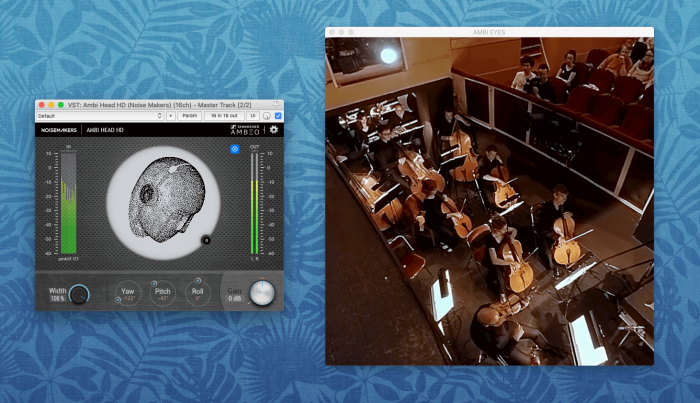 Ambi Eyes is a standalone application for Mac and PC. It allows to monitor monoscopic 360 videos while authoring the ambisonic mix.

Head rotations are transmitted in real-time to Ambi Head HD to apply audio rotations. If a VR headset is connected to the computer, Ambi Eyes will automatically detect it (PC only). Synchronization between DAW's timeline and Ambi Eyes can be adjusted in Ambi Head HD settings (top right wheel).
Ambi Eyes features
Input: monoscopic 360 video (up to 4K).
Supported formats: H.264, H.265 and VP8.
Compatible with PC VR headsets (e.g., Vive, Oculus Quest via Link).
Transmits head rotations to Ambi Head HD (v1.3 and above).
No audio (audio is played in the DAW).
In addition, Ambi Bundle HD has been upgraded to version 1.3 with new features:
Updates AMBEO HRTF (improving rendering quality).
Adds O3 Facebook HRTF.
Adds Ambi Eyes compatibility.
The upgrade is free for all customers. Ambi Verb HD adds customizable snapshots, allowing to store up to 16 custom presets that can be recalled by an automation parameter. This opens new possibilities to switch parameters and (custom) IRs at runtime.
To celebrate the release of Ambi Eyes, a Summer Sale has been launched with a 33% discount on Ambi Bundle HD.
More information: Noise Makers