IK Multimedia's AmpliTube and AmpliTube CS apps for iPhone and iPad now offer the new Ampeg Collection 2, a selection of popular Ampeg amp and cabinet models featuring IK's exclusive Dynamic Interaction Modeling technology.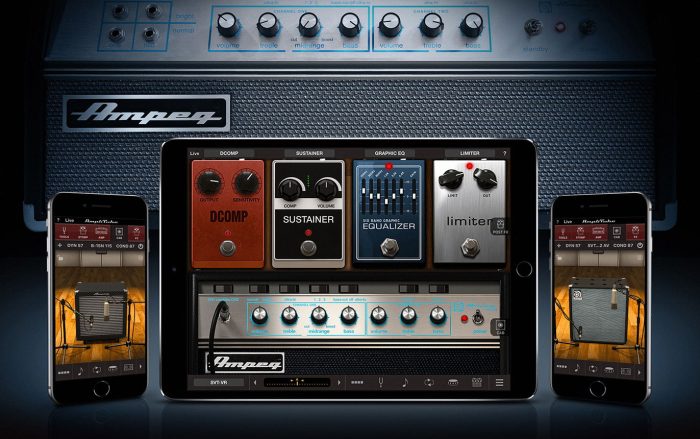 Users of both the AmpliTube for iPhone and AmpliTube for iPad apps – or the free AmpliTube CS versions – can enjoy three new amp models and three new cab models, which are being offered as in-app purchases either individually, or as a bundle.
The three new matching amps and cabs in the collection are:

SVT-VR amp – A vintage reissue of an early 1970s "Blue-Line" SVT head. The preamp stage, power section, and even rocker switches emulate the exact signal path, tone, and vibe of the original rock 'n' roll workhorse, from its input jack all the way to its six 6550 output tubes.
SVT-810 AV cab – The classic Ampeg seen on stages worldwide. Identical to the Classic Series SVT-810E, the AV version has the fit and finish of the original Ampeg SVT stack. The SVT-810AV Infinite BaffleTM design has remained constant since 1969 and delivers the punchy, round sound that defines the Ampeg tone. The air-moving capability of eight 10″ speakers combined reacts faster to transients than fifteens or eighteens. The result is sound that can be felt, and that truly delivers what players want out of a bass rig.

V-4B amp – This 100W All-Tube Bass Head is a remarkable reissue of the legendary original from 1971, delivering the pure tube tone and unmistakable grind that earned the classic a place in bass history.
SVT-212 AV cab – The Ampeg SVT-212AV bass enclosure delivers pure Ampeg tone in a ported cabinet design that bridges the gap between the fast transient response players want and the rich low end they deserve. The SVT-212AV features 2×12″ custom Eminence® LF drivers and a 1″ compression driver with 3-way level control in a rugged cab with vintage Ampeg styling.

HERITAGE B-15N amp – A design that delivers legendary tone that truly lives up to the iconic standard set by inventor Jess Oliver 50 years ago. The Heritage B-15 features the circuit paths of both a 1964 and 1966 B-15, including classic Baxandall EQ controls and premium 6SL7 octal preamp tubes along with a bias switch, recreating each years' distinctive bias methodology.
B-15N 115 cab – This extremely high-quality flip-top cabinet features the legendary double-baffle design of the B-15 Heritage cabinet
and houses a custom-designed 15″ Eminence® driver. The Heritage B-15 is no mere tribute; it meets and exceeds the performance, look and tone of the legendary original, down to each and every component.
All are officially licensed models that offer the true sound and feel players expect from an Ampeg bass rig.
The Ampeg Collection 2 is available now for version 4.6 of the AmpliTube or AmpliTube CS apps for iPhone and iPad. It can be purchased via the in-app shop for only $14.99 USD.
These amps are also now included in the AmpliTube All-Amps 2018 and AmpliTube All-In 2018 bundles, and are free to users who have already purchased these bundles.
More information: IK Multimedia