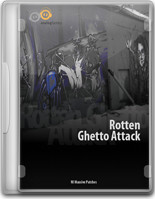 Analogfactory has released Rotten Ghetto Attack, a soundset for the Massive synthesizer by Native Instruments.
Rotten Ghetto Attack is a patch library full razorblade sharp leads and sequencer sounds, deep distorted basses and urban percussions. It is the swissknife for producers of Urban and Industrial tracks.
Rotten Ghetto Attack features
75 patches for Native Instruments Massive.
All patches are provided with attributes which can easily be found by the soundbrowser of Massive and also make excessive use of the six macro knobs where different parameters of Massive can easily be influenced.
Free bonus patches and product audio demos arae available on the Rotten Ghetto Attack product page.
Rotten Ghetto Attack is available to purchase for the introductory price of $10.99 USD until June 1st, 2011 (regular price $12.99 USD).
With the release of Rotten Ghetto Attack, analogfacatory has also announced its analogfactory spring sale:
There are several discounts and possibilities to save money! The analogfactory spring sale voucher page with all details is available at: http://voucher.analog-factory.com.
The spring sale is also available until July 1st, 2011.
More information: Analogfactory