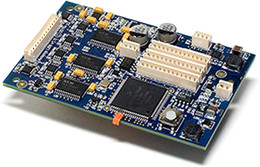 Antares has announced Auto-Tune for Guitar, a powerful hardware DSP system that is designed to be installed in a guitar and provide real-time processing while the guitar is played live on stage or in the studio.
Incorporating our world-renowned Auto-Tune pitch detection and manipulation along with our proprietary modeling technologies, Auto-Tune for Guitar is an entirely DSP-based suite of functions that offer everything you've always wanted from a guitar, along with capabilities you never imagined possible.

From flawless intonation to astonishing tonal flexibility to alternate tunings that open up entirely new areas of inspiration and creativity, Auto-Tune for Guitar technology seriously expands the flexibility and range of the electric guitar while letting you continue to play your own way.
More information: Auto-Tune for Guitar