Softube has announced it has further expanded the range of Universal Audio's UAD-2 Powered Plug-Ins that are ready for use with its Console 1, increasing the total count of Console 1 ready plugins to well over seventy.
With today's update to the Console 1 software, the total count of compatible plug-ins reaches seventy-seven. Now Console 1 users can add the API 225L compressor/limiter, 235L gate/expander and the classic API equalizer 550L—all from the API Vision channel strip. The user can choose to use all three together, but the units can also be added independently as part of any Console 1 channel. This means that it's possible to cherry pick—and for example use the API 550 EQ combined with a Valley People Dyna-mite gate and a Teletronix LA-2A, or any other combination of Console 1 compatible plug-ins.

We are also including the first Manley products, with the hugely popular Massive Passive (both the standard and mastering versions) and the flagship Variable Mu Limiter Compressor. And last, we have the venerable classic DBX 160 Compressor/Limiter with its uniquely radical compression characteristics.

Both the DBX 160 and API 225L compressor/limiters get the addition of Dry/Wet functionality when used in Console 1, which they don't have in their standalone plug-in versions.
The Console 1 software update is available to existing users from the Gobbler desktop application, or from My Account at Softube.
The update also includes a larger GUI.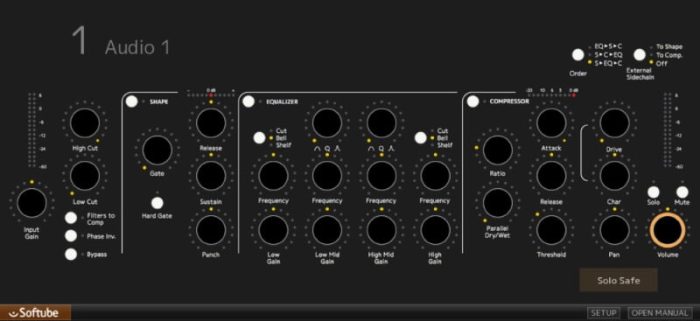 Here's the new Console 1 plug-in window. Some users have let us know that they think the plug-in window has been too small and too unattractive, so here you go—a larger and more Console 1-like graphical user interface. This is of course also included in the free update.
Softube has also launched Modular adapted versions of the TSAR-1 Reverb and TSAR-1R Reverb.
The Modular versions of TSAR-1 Reverb and TSAR-1R Reverb use the same algorithms and have the same feature sets as their standard plug-in counterparts. This means Modular users now have an easier way to add the world's finest plug-in reverbs to their synth patches. But it extends far beyond that.
The Volume and Wet/Dry parameters are CV controllable, which opens up to new creative uses—for example setting an envelope filter to control the Wet/Dry level. Furthermore, patching the reverb output to any other module opens up a world of creative uses—for example shimmering pitch shifted reverbs, filtered spaces and crazy feedback mayhems. 27 new presets are included.

The license for TSAR-1 Reverb and TSAR-1R Reverb for Modular is one and the same as for the standard versions of the plug-ins. So owners of both Modular and either of the TSAR reverbs can simply download the update and get to work—this includes all owners and subscribers of the Volume 1 bundle. Conversely, buying TSAR-1 Reverb and TSAR-1R Reverb with the intention of using them with Modular also makes them available as traditional reverb plug-ins. One license, many uses!
More information: Softube