Apogee has announced some new developments for its Apogee FX Rack DSP-Native plugin platform at Winter NAMM 2019, including DualPath Monitoring for Ensemble and Element Series interfaces.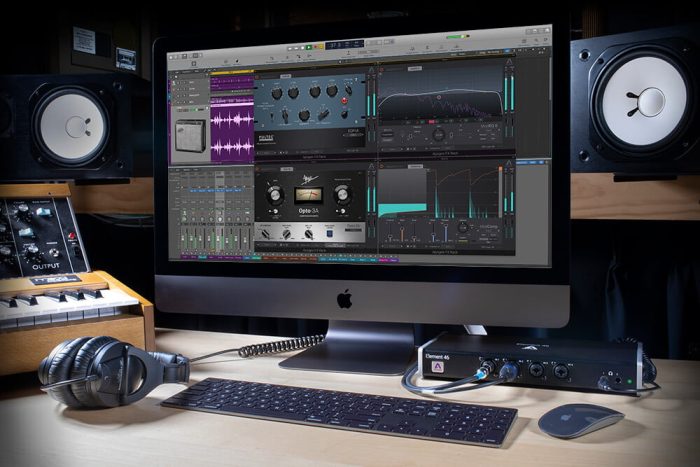 Apogee FX Rack Plugins are made with the same quest for quality and obsessive attention to detail as Apogee hardware products. Thanks to Apogee's unique DualPath DSP-Native technology, Apogee FX Rack plugins can run both on the hardware DSP in Ensemble Thunderbolt and Element Series interfaces and as native plugins on your Mac. Apogee's DualPath technology opens up a variety of popular, simplified workflows, always with the lowest latency.

Logic Pro X users enjoy the ultimate Apogee FX Rack and DualPath Monitoring experience, thanks to unique hardware-software integration features, such as the Logic Pro X Direct button and Audio Device Control view. And, it can all be controlled from a single window in Logic, no need for an additional mixer or console app. With Apogee FX and DualPath Monitoring, the pieces are now in place for a user experience that's unsurpassed in simplicity, power and quality.
DualPath Monitoring for Ensemble and Element Series interfaces available March, 2019. Apogee FX Rack with the ModEQ and ModComp plugins is free to customers that purchase Ensemble Thunderbolt and Element Series interfaces.
The Apogee FX Rack will also be expanded with a new Pultec MEQ-5 plugin and the Pultec Series Bundle which also includes the EQP-1A Plugin.

Announcing the Pultec Series plugins for Apogee FX Rack, two classic vintage Pultec plugins, including the new MEQ-5 Mid-Range EQ, co-developed and endorsed by Pulse Techniques using their newly manufactured EQP-1A and MEQ-5 hardware models.

The result of a direct partnership with Steve Jackson, Ph.D., owner of Pulse Techniques, the Apogee FX Rack Pultec Series plugins claim to offer the truest sonic emulations of original Pultec hardware available for the first time as DSP-Native plugins.
The MEQ-5 plugin and Pultec series bundle will be available March 2019. The bundle is priced at $199.99 USD.
More information: Apogee