Guy Jackson of Arclight Projects has launched an Indiegogo campaign for the Lumen, a fully self-contained electronic percussion instrument in the form of a traditional handpan.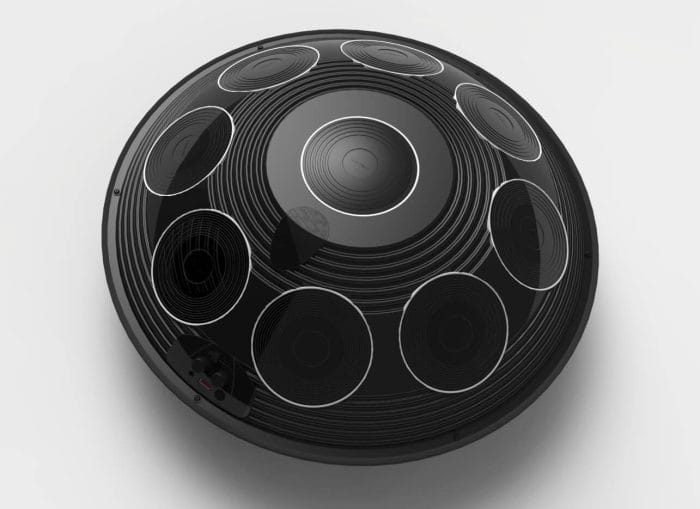 The Lumen is an electronic percussion instrument in the form of a handpan, which provides the unique playing experience of it's acoustic inspiration, with the added benefits that electronics bring. It features built-in amplified speakers, an advanced on-board audio processor and full velocity sensitivity.

We want artists around the world to be able to pick up the instrument, turn it on and play – no need to connect to any other equipment. Being an electronic instrument, you can of course output the audio signal or MIDI messages straight from the Lumen.
Lumen features
Multiple Sample Sets — The Lumen contains samples sets from a number of handpan manufacturers out of the box, with additional samples sets planned for download.
Self Contained — There's no requirement to connect the Lumen to a computer, iPad or DAW for playback. High quality, full range amplified speakers are built-in. Pick it up, turn it on and play.
Velocity Sensitive — The Lumen's sensors are fully velocity sensitive, mimicing as closely as possible the experience of playing an acoustic handpan.
Tuning — The active sample set can be tuned to any key, using a dial which ensures that your adjustments are stepped in semitones.
MIDI Out — With it's MIDI out port, the Lumen can act as a MIDI controller, allowing you to play any instrument.
Audio Out — A 3.5mm headphone jack provides audio out capabilities – plug in your headset, external speakers or record sounds directly from the Lumen.
Surprise — There's an additional feature of the Lumen which will be announced closer to it's release date. Suffice it to say, the Lumen will be a unique musical experience.
The campaign aims to raise $70,000 USD. Backers can get the Lumen starting at the Super Early Birds price of $499 USD.
More information: Arclight Projects / Lumen at Indiegogo