ArtVera has announced the release of ART Pyrite, a powerful atmospheric software synthesizer for Windows.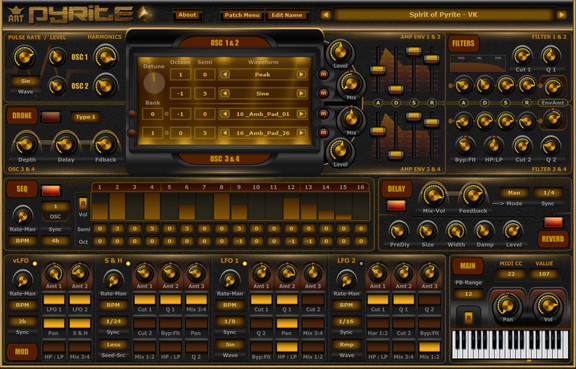 It creates unique variable Atmospheres, Soundscapes, Pads, Textures, Ambient, Sound Effects & Rhythmic and Melodic Sequences.

Running ART Pyrite 32 bit plugin in a 64 bit host might require a bridge-adapter/wrapper like JBridge.
This is not necessary if you use a 64 bit OS (Vista or Windows 7/8) and a 32 bit host.

This software synthesizer offers a wide spectrum of miscellaneous sounds, suitable for all music styles including NewAge and Movie Music.

You can easily create your own presets with basic sounds or by using sounds from external SF2 files. You also can create dynamic sequences by using wide possibilities of the modulation section and/or by using an included step sequencer for one oscillator, couple of oscillators or all oscillators. There is also available the Random button which can be used to change most of the parameters including changes of waveforms to create really unique sounds.
ART Pyrite features
Two analog-style oscillators featuring 22 waveforms.
Two digital-PCM oscillators powered by 256 different waveforms in two internal source banks.
Two filters – 24db Lowpass and 12db Low/Highpass selectable.
Two amplitude ADSR-style envelope generators.
Two filter ADSR-style envelope generators.
One 16-step polyphonic sequencer with Random button of Volume level (BPM syncable or manually).
Two LFO with three amounts routed to nine different destinations (BPM syncable or manually).
One Sample & Hold with three amounts routed to nine different destinations (BPM syncable or manually).
One vLFO for very low frequency modulations (BPM syncable or manually).
One specially modulated droning chorus for the digital-PCM oscillators (9 modes).
One synced Cross-Stereo-Delay with feedback modulated by vLFO, LFO1, S&H or manually.
One Reverb unit.
One Random button to randomize different sets of waveforms and most parameters.
The possibility to load external SF2 files into digital-PCM oscillators.
MIDI Learn/CC Edit for most control elements.
Inbuilt MIDI CC/Value displays and Bank/Preset Manager.
12 voices polyphony.
Low CPU usage.
Straightforward and readable UI – all control elements are on a single screen. Suitable for monitors with higher resolutions.
Three full preset banks sorted to sound categories: Atmosphere-Pad, Atmosphere-Ambient-FX, Atmosphere-Melody-Rhythm.
Most of presets have the setting to synchronisation of host tempo. These were made at default tempo 120 BPM.
Additional presets made by Daniel Kemp.
The separated SF2 file for the possibility to use it also in another software applications with SF2 support.
Size of "RAR" archive is 147 MB – 218 MB uncompressed.
ART Pyrite for Windows (VST) is available for purchase for $60 USD. A free version with some limited features is available to download.
More information: ArtVera / ART Pyrite