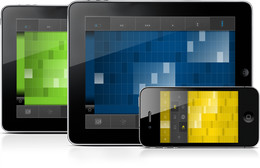 Audanika has released version 1.1 of SoundPrism, a music app for iPad, iPod touch, and iPhone.
SoundPrism enables you to create beautiful music immediately without any previous knowledge. With its unique visualization of pitches and intuitive controls composing sophisticated melodies, tone and chord patterns becomes child's play.
Changes in SoundPrism v1.1
Record and email your compositions right from your iPhone, iPod or iPad.
Easy made ringtones for your iPhone.
Note names can now be made visible.
Improved bass.
Fuller sound.
SoundPrism is now less then 20MB to download.
Pitch Space System has been improved: The circularity of the diatonic subspace is now fully implemented.
SoundPrism is available to purchase at the iTunes App Store for $4.99 USD.
More information: Audanika