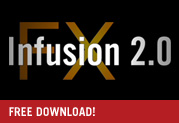 Line 6 has released Spider FX Infusion 2.0, a free collection of 50 effects for the Spider IV and Spider Valve MkII amp series.
Expressive delays, lush reverbs, creamy distortions and more are yours for the taking. Load them into your Spider IV or Spider Valve™ MkII amp to greatly expand your sonic palette.

How do you get it? Just connect your FBV Shortboard™ MkII or FBV Express™ MkII foot controller to a computer with Internet access, run Line 6 Monkey™, and follow the directions. You'll be playing your new effects in minutes! (Spider Valve MkII amps can also connect to a computer via a MIDI-USB converter.)
Spider FX Infusion 2.0 is a free update (compatible with Spider IV 75, Spider IV 120, Spider IV 150, Spider IV HD150, Spider Valve MkII 112, Spider Valve MkII 212, and Spider Valve MkII HD100 amplifiers).
More information: Line 6