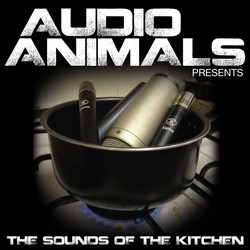 Audio Animals has announced The Sounds Of The Kitchen, a free sample pack featuring sound recordings of kitchen utensils.
With all of the studio work out of the way, we decided to start work on a new sample pack, to give away exclusively to the followers on our facebook page (Audio Animals Label). Earlier in the day we watched a short vine of a guy chipping a golf ball into a cup. It had some nice sounds as the ball hit the saucepan and cup. This reminded us of a sample pack we intended to make a while back, 'The Sounds Of The Kitchen'. It is amazing the sounds you can create with general house hold objects!

To summarise it, it is a collection of sounds we have made using ordinary kitchen utensils, which are aimed for percussive use or any creative way you see fit!
The sample pack is a free download to Audio Animals Facebook fans.
More information: Audio Animals / Sounds Of The Kitchen