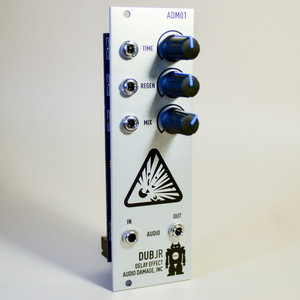 Audio Damage has announced the release of DubJr, Grainshift and Errorbox, three Eurorack modules.
After two years of R&D (a sentence fragment that in no way conveys the experience we've just been through), and coincidentally during the week of Audio Damage's tenth anniversary, we have succeeded in releasing a hardware platform for our DSP effects, and are ludicrously proud to unveil the first three Audio Damage hardware products: DubJr, Grainshift, and Errorbox.
Audio Damage Eurorack modules
ADM01 DubJr is the delay from Dubstation, in a pint-sized Eurorack modular format, for your knob-twisting pleasure.
ADM02 Grainshift is a real-time granular pitch-shifter and chaos effect for the Eurorack modular format. From simple smooth micro-tuned pitch shifting and chorus effects on up to full metal granular chaos, Grainshift is a versatile module, easy to use and fun to have.
ADM03 Errorbox is just like any other tool-kit utility module, except that in this tool-kit, all the tools are chainsaws and rabid badgers. Includes a sample rate reducer, bit rate reducer, and ERR algorithm (as found in the Kombinat Dva plug-in).
The modules are available to purchase via Audio Damage's retail partners for $179 USD each (currently exclusively at Analogue Haven).
More information: Audio Damage