Audio Damage has released version 2 of Replicant, adding a Stutter effect to the buffer effect plugin for Windows and Mac.
One of our all-stars gets the full upgrade treatment.

Replicant, arguably the plug-in that most defines Audio Damage, gets a complete makeover for its 10th birthday, with an all-new vector-based resizable GUI (easy on the eyes), VST3 and AAX versions (with an iOS AUv3 coming next week), and a new effect, Stutter, which further subdivides the loops.

Replicant 2 features
Tempo-based delay and looping effects, from 1/128th note to an entire measure.
Stutter adds further subdivisions, down to a 1/16384th note (otherwise known as a "tone".)
Seven independant randomization controls, for subtle changes or extreme aleatoric madness, including a global randomize button.
Our unique "Hold" feature, to store a random sequence you like.
Resonant low-pass and high-pass filters that change over time.
Pan position that changes over time.
Two separate direction modes, for entire events or individual repeats, with randomization.
MIDI Note or front panel triggering of loop events for live playing of effects.
Replicant 2 is available for $49 USD, with an upgrade price of $10 USD for Replicant owners.
Also updated is Phosphor, that additive synthesizer that is modeled on the alphaSyntauri by Syntauri.
Along with that, we've released Phosphor 2, a top-to-bottom reworking of our painstaking clone of the alphaSyntauri, the original computer-based synthesizer.

Phosphor 2 maintains Phosphor's original topology, and adds completely redesigned oscillators, a new UI, and AAX and VST3 versions, with iOS standalone and AUv3 also coming next week.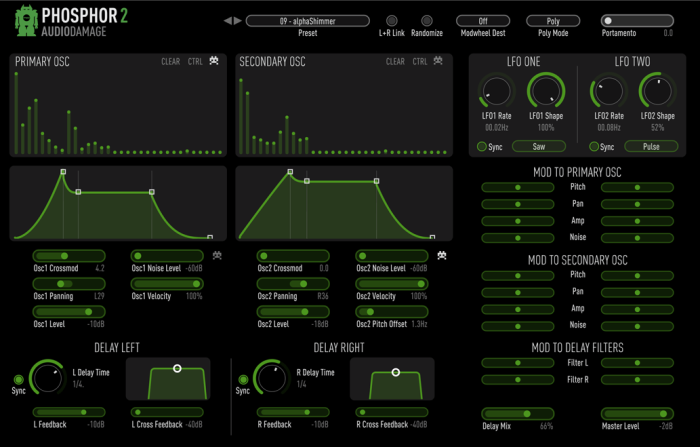 Phosphor 2 features
Two complete oscillator/envelope sections modeled on the original topology of the alphaSyntauri.
Each set of partials can run in "lo-fi" mode, emulating the gritty digital voicing of original, or in a modern mode for alias-free sines.
The noise can be either "lo-fi" digital shift-register noise per the original, or modern white noise.
Two complete delay sections with LP/HP filtering and cross-feedback.
Two tempo-syncable LFOs with multiple modulation destinations.
A large complement of presets included that show off the extensive sound generating capabilities of Phosphor, including some famous alphaSyntauri presets directly ported from the original.
Phosphor 2 is $59 USD, also with an upgrade price of $10 USD for owners of the original Phosphor.
More information: Audio Damage