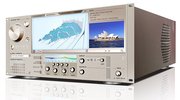 Audio Ease has released version 6.2 of Altiverb, a convolution reverb plug-in for Mac and Windows.
It uses top quality samples of real spaces to create reverb, ranging from Sydney Opera House to the cockpit of a Jumbo Jet. Altiverb 6 offers the most extensive set of parameters, it supports all professional plug-in formats including protools TDM on the Mac, parameter automation and surround. Altiverb 6 gives you a choice between iLok SmartKey or Challenge/response copy protection, it lets you sample your own spaces (currently Mac only), and Altiverb is efficient on your cpu.
Changes in Altiverb v6.2
[PT] Pro Tools 7.4.2, OS X 10.5.3 and Intel Mac compatible. The RTAS version has been fixed to work with optimal performance in Mac OS X 10.5.3 and Pro Tools 7.4.2. Earlier there was the need to exclude some processor cores from RTAS processing, the playback engine can now be set to the number of processor cores available.
[PT TDM] The TDM version has a fix to make reloading a session with several Altiverbs active reliable. Data traffic to and from the DSPs could be hampered during load of a session, especially with an Expansion Chassis (ethernet or Magma) is connected. The fix makes the traffic reliable, albeit on a chassis somewhat slower.
[PT ]The RTAS version has been made better compatible for exchanges between PC and Mac, and between HD and LE systems. A session with a TDM version inserted will now open an RTAS instance automatically when transported to an LE system.
[PT MAC] Stopped CFM support for Pro Tools (from Altiverb 6.2 on Altiverb will not work anymore Pro Tools 6.x, Pro Tools 7 is required).
[PC] compatibility with Sonar improved.
[PC] compatibility with pyramix improved, Altiverb 6 XL surround options too.
Removed several smaller problems.
Added possibility to turn off auto update checking.
Visit Audio Ease for more information.