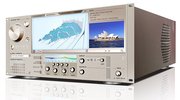 Audio Ease has released version 6.3 of Altiverb, the convolution reverb plug-in for Mac OS X and Windows XP.
It doesn't show on the outside, but Altiverb 6.3 is a big update for Altiverb. It is the result of ongoing extensive optimizations under the hood, from which all digital audio platforms will benefit.
Changes in Altiverb v6.3
Enhanced efficiency.
Significantly increased integration with Pyramix systems including their Mascore technology.
ProTools 8 compatibility.
Audio Ease has also announced the upcoming release of samples of Paramount Scoring Stage M in LA. Read more about Scoring Stage M at the Film Music Society.
The Altiverb 6.3 update, and the monthly Impulse Responses are free of charge.
Visit Audio Ease for more information.